Once you have purchased a course as a gift, instructions on how to send it will be available in the Order and Course Management section of your profile.
Go to the course you purchased as a gift and select the option How to give away this course.

From there, you will be given two options to gift the course:
1) You can download the PDF and share it with them by email or any other favorite social mean, or you can print it out to gift it in person!
2) You can add the email address of the person you want to gift it to and send the instructions directly by email. (Take your time when typing out the recipient's email to avoid any mistakes, once you send the instructions you won't be able to make any changes. But don't worry, on the chance of this happening, you can return to option 1 and download the PDF.)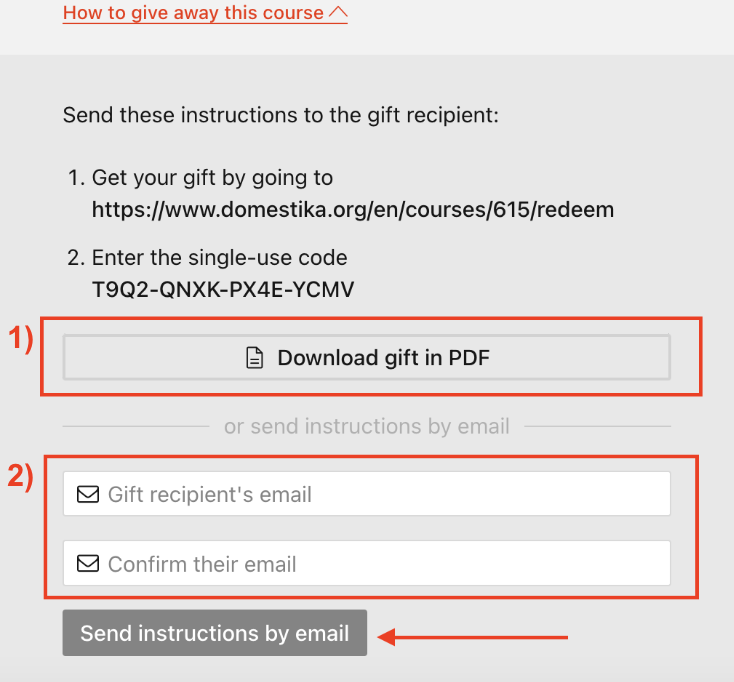 In addition, we also email you the instructions along with your purchase receipt.
IMPORTANT: Remember that you should not redeem the code from your profile.
The gift code is a one-time use code and is meant to be used only by the person you want to give the course to. What does one-time use mean? Once you use the code to redeem the course, and it has been done correctly, it is not possible to use it again to redeem the same course.
Gift codes do not have an expiry date, you are able to gift them any time you want. The 14 days limit to request a course exchange counts from the day the gift code is redeemed.
We hope that the person who receives your gift enjoys learning with Domestika!