The prices on the website will be shown in your local currency, determined by the IP address used when registering with Domestika. You can check the currency that's been set in your profile in the Account Settings section.
If your local currency is not currently available, your profile's currency will be set to US dollars (USD).
In the Domestika app, you'll see the price in your local currency if it is currently available in the Google Play or Apple Store. Please note that this may differ from the currencies available on the website.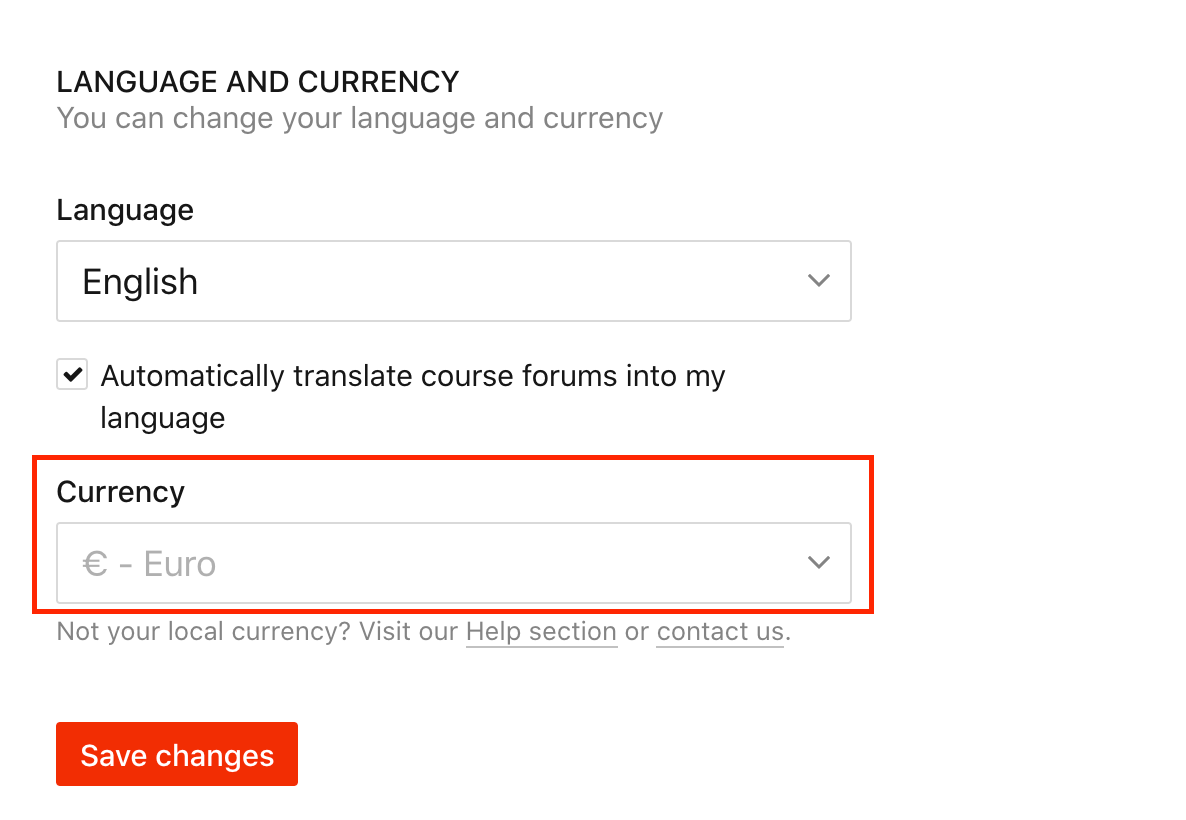 Can I change the currency associated with my profile?
It's not possible to change your profile's currency. However, if your local currency has not been correctly updated or you now live in a different country, please get in touch with us so that we can help you accordingly.


How will the different exchange rates be applied?
Domestika is a global community and so when setting the prices in each currency, fluctuations in exchange rates and different local markets are taken into account. This means that you will always see the price that corresponds to your location.
Will I be charged in my local currency?
All charges are made in US dollars, while taking into account the price shown in your local currency. If your local currency is not set to US dollars, you will be shown the final price in both currencies during the purchase process before finalizing the payment.
Domestika doesn't apply commission or taxes relating to the exchange rate between currencies. However, your bank or payment processor may add an additional fee and so we suggest that you contact them directly to confirm their policy regarding this.

Which currency will appear on my invoice?
Upon completing your purchase, we will send you the corresponding receipt showing the price in your local currency. If you want to download an invoice, the price will appear in US dollars, consistent with the currency in which you were charged. You can see how to download your invoice here.
Please remember that purchases made in the Domestika app will be processed by Google Play and Apple and so the invoice for your purchase will be available in your Google Play or Apple account.
Currencies currently available
The following currencies are currently available in Domestika:
US dollar (USD)
Euro (EUR)
Mexican peso (MXN)
Argentine peso (ARG)
Colombian peso (COP)
Chilean peso (CLP)
Peruvian sol (PEN)
Panamanian balboa (PAB)
Brazilian real (BRL)
Uruguayan peso (UYU)
Costa Rica colón (CRC)
Pound sterling (GPB)
Canadian dollar (CAD)
Australian dollar (AUD)
Japanese yen (JPY)
Indian rupee (INR)
Israeli new shekel (ILS)
Swedish krona (SEK)
Norwegian krone (NOK)
Russian ruble (RUB)
Turkish lira (TRY)
Indonesian rupiah (IDR)
Thai baht (THB)
Philippine peso (PHO)
Malaysian ringgit (MYR)
South Korean won (KRW)
Swiss franc (CHF)
Polish złoty (PLN)
South African rand (ZAR)
Vietnamese dong (VND)
Chinese yuan (CNY)
Czech koruna (CZK)
Danish krone (DKK)
Romanian leu (RON)