If you don't know for sure what currency the price of the courses is in, you can check and change the settings.
If you don't have a Domestika account yet, you can configure it at the bottom of the page. You will find it under the heading Language and Currency.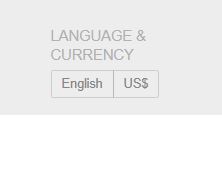 If you already have a profile in Domestika, you must first log in and then go to Account Settings.

Remember that Domestika is a U.S.-based company and all charges are made in dollars, so it is possible for your bank to charge a fee at the time of payment.
In addition, there may be a small difference between the amount charged and the amount shown on the web, due to the exchange rate of your local currency to the dollar.