Starting on June 23rd 2022 certificates are exclusively for Plus members. If your courses were purchased before the 23rd of June 2022, the certificate will still be available to be downloaded once you complete them.
What are the requirements to get my certificate?
To get your certificate, you need to be Plus member* or have redeemed the course using a Domestika for Business access. To download your certificate you only need to have marked all the course's units as completed. Also, if you publish a project, the certificate will include a QR code to allow you to share your new skills.
*Please note that the Plus free-to-watch courses do not include the course certificate, unless you decide to purchase it using one of your credits. You can find more info about Plus courses here.

How do I mark my course's units as completed?
It's very easy! At the end of each unit, under the "Tasks" and "Additional Resources" sections you will find the following button:

If this button does not appear, we recommend that you disable your ad blocker and antivirus, if you have them, and make sure your browser is updated to its latest version.

What information does the certificate include?
The certificates include your full name, the name of the course you've completed, a QR code that links to your course final project, and the teacher's name and signature. The certificate, along with your final project, is the best way to demonstrate your learning experience at Domestika. These are attendance certificates and do not specify the course's duration, as you can complete the courses at your own pace.
Please note that there are two cases where you won't see a QR code in your certificate:
1. If you do not add the final project to your course
2. If you complete a Domestika Basics (as they do not have final projects)

Where do I download my certificate?
To obtain the certificate for your course, access the course in your profile and make sure that all of the course's units have been marked as completed. Once you do so, you can download your certificate of attendance for the course in the Certificates section of your profile. You can also check this article to find information on how to download your certificate from the App.

What's the format of the certificate?
You can download certificates as PDF files but you can also share their links online.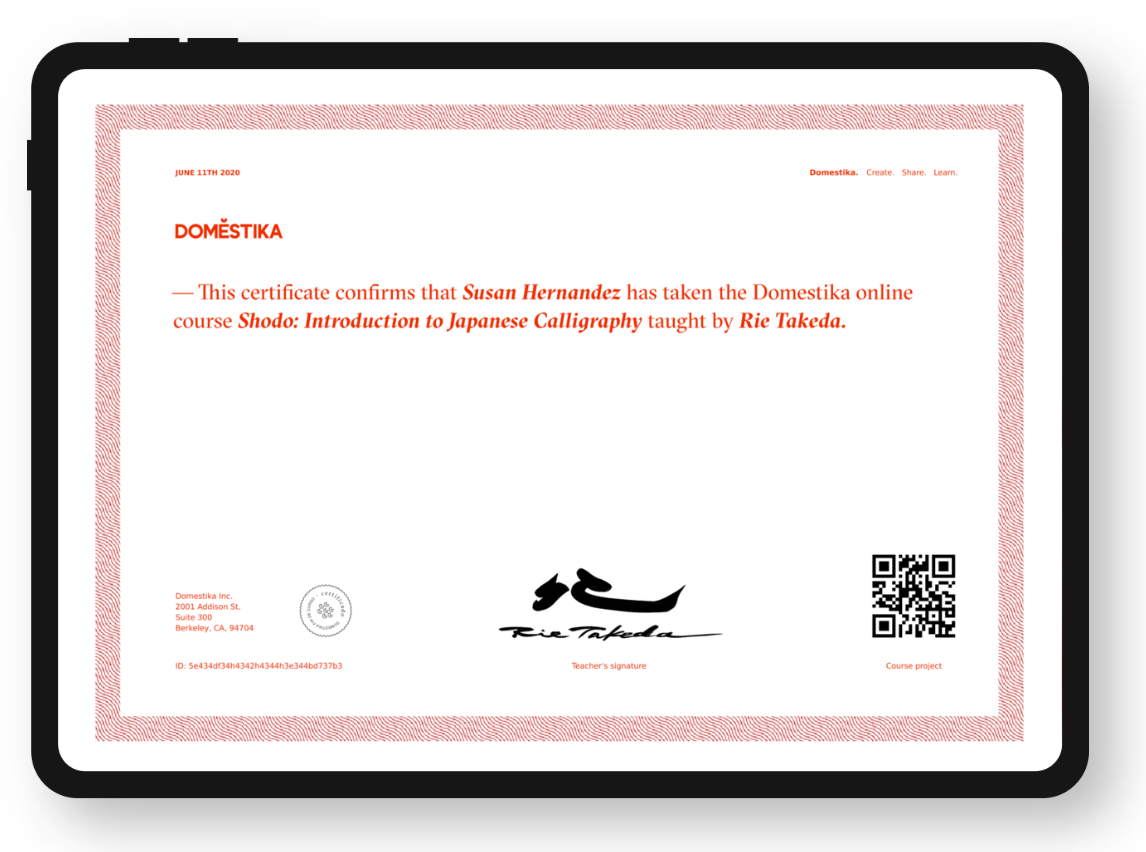 The certificate shows my user name and not my full name, how can I change it?
Certificates will include your username only if you have not completed this section in your profile. To do so, please click here and add your name and surname, then re-download the certificate and that should appear for you correctly.

For how long will the certificate be available in my profile?
Certificates don't expire. Once you earn them, they're yours forever!