If you received a gift code and when you try to redeem it, it doesn't work, there are several reasons why this might be happening. Please, review the points below:
Firstly, verify the code you are using is indeed a gift code
.
Gift codes have the following format XXXX-XXXX-XXXX-XXXX, if your code is different, probably you have received a discount code. In that case, please visit this article and find information on how to use it.

Then, make sure you are entering the code in the right place on the website
.
In order to redeem your code, you don't have to add the course to the shopping cart. Simply access the main page of the course you're interested in and, in the bottom part of the information section on the right, click on the text Redeem the course with a gift code and enter the gift code you received. Remember to copy and paste the code just as you received it (no extra spaces, not missing any characters) and that's it! You can start enjoying your course! You can also find more information here.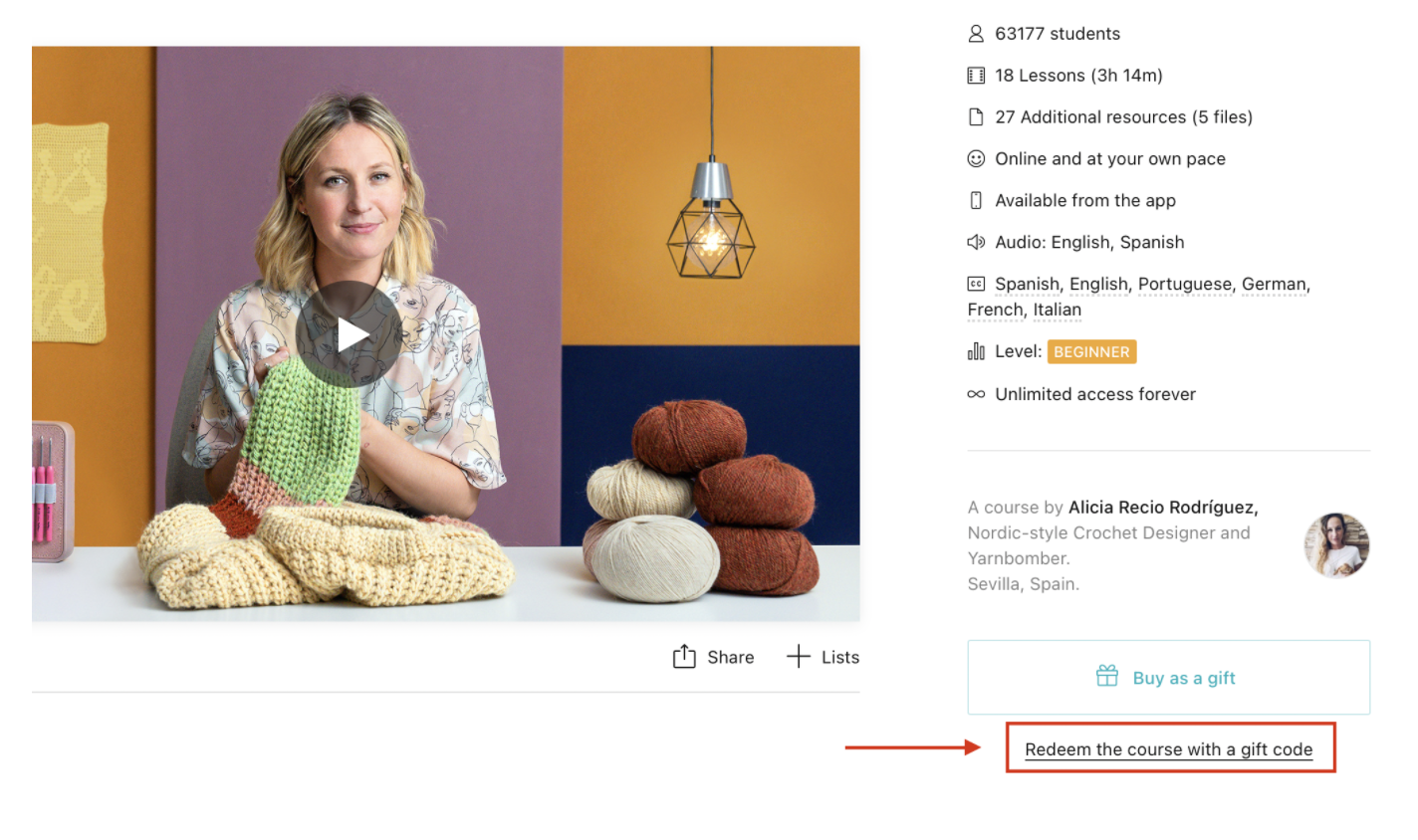 It's also possible that you have already redeemed it from a different profile you created on Domestika
.
The gift codes are for one-time use only. This means, you can use them only once and the course will be activated on the profile where it has been redeemed.
Do you remember using this code before? If you do, it's possible that your course is waiting for you in a different profile. Reach out to us here and send us both the code and the email address you use at Domestika.
Lastly, the person who gifted you the course may have accidentally redeemed it on their profile before sending it to you
.
It can happen that the buyer activates it on their profile by mistake, as the code is meant for single-use, you will not be able to use it to redeem a course on your profile. In that case, the person who sent you the code will need to get in touch with us indicating the gift code, the order ID of the purchase, and the email associated with the Domestika profile to whom they wish to gift the course, once we receive this information we will be able to offer further support. Bear in mind that the email needs to be already associated with a Domestika profile for us to transfer the gift, if you haven't done so, please sign up. You can also visit this article for more information.
We remind you that it's very important that you copy and paste the codes as you receive them, including the dashes, to avoid any kind of mistake. If you have verified all of this information and your gift code still doesn't work, please get in touch with us.