Can't find your course? Don't worry! Rest assured- courses don't disappear or get deleted!
Domestika's courses are activated in the profile from which the purchase was made and they don't expire. In case you are unable to find your course in the "My Courses" section, it's probably because you've logged in with a different profile. 
Remember that in Domestika you can create an account in three different ways:
Email and password

Facebook

Apple ID
It wouldn't be unusual for you to have more than one account without being aware of it, and end up buying courses using both profiles, so your course may be waiting for you in a different profile.
If you don't remember which login method you used to create your profile or if you indeed have created another one accidentally, don't worry! We will help you locate it. You can find more information related to this in the following article: Which email address did I use to create/access my Domestika profile?
Now, let's find your course.
First of all, make sure that the purchase was successful. When you complete the payment for an order, you will receive an email in your inbox (remember that we will send this to the email address that is linked to the Domestika profile you used to make the purchase) with the receipt of your purchase which includes the order ID. If you need us to help you find your course, please, write to us through our contact form, indicating the email associated with your profile and this order ID: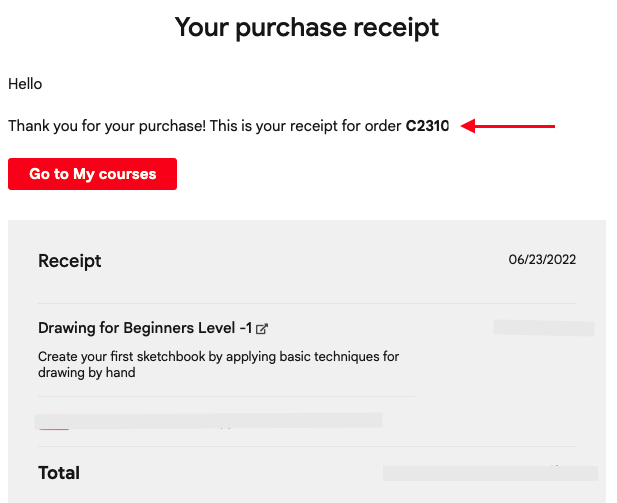 If you can't find the receipt of purchase with the order ID or no longer have access to the e-mail associated with your profile, don't worry! We can locate the order with the payment information. Depending on the payment method, use the same form and send us the following information:
Visa/Mastercard/American Express Payment:

last 4 digits of the card and exact date of purchase.

PayPal Payment:

email address of the PayPal account used to complete the payment and date of purchase.

Payment on the website through local methods (cash, bank transfer) processed by dLocal:

proof of payment or receipt from the store where the deposit was made.

Payment through the Domestika App:

invoice generated and sent by App Store or Google Play and the exact name of the course you purchased. To learn how to download your invoice, please review

this article

.
NOTE: Please take into account that if you've made a payment using cash payments or local methods, this can take up to 3 working days to become valid. You can find more information in this article: I paid in cash and my course is not available

Another possibility is that you've mistakenly purchased the course as a gift.
Please check that you added the course to your cart to enjoy it from your own profile in the section Orders and Course Management. If the course appears as a gift, you just need to follow the instructions outlined in the receipt to redeem the gift code for yourself and begin to enjoy the course. You can also find more information in the following article: I've received a course as a gift, what do I have to do?