Domestika's courses are activated in the profile from which the purchase was made and they have no expiration date, so if you are unable to find your course in the "My Courses" section, the most likely thing to have happened is that you have signed in with a different profile.
It is very common for users to have more than one account without knowing it, having some courses in one account and other courses in another, therefore we encourage your to visit this article to make sure that this is not the case: With which profile do I access my account in Domestika?
If you have confirmed that you are using the correct profile and the problem persists, it is possible that it is becase one of the following reasons:
The course has not been published yet. If you have purchased a course in pre-sale mode, you will not be able to access it until its publication date. In this case, you can see the publication date of the course on its Introduction page and we will send you an email the day it is published to remind you.
You have purchased the course as a gift by mistake. Please check that you have added the course to your shopping cart to enjoy it from your own profile in the section Orders and Course Management. If the course appears there as a gift, you only need to follow the instructions that appear for you in the receipt to be able to redeem the gift code for yourself and begin to enjoy the course.
The payment has not yet been verified (cash payments/transfers): If you have made a payment using cash payments or local methods, please remember that this can take up to 3 working days to become valid. You can read more information in this article.

If you go through all the aforementioned steps and you still cant find your courses, please send us a message through our contact form indicating the Order ID that you received in a message in your inbox upon completing your order: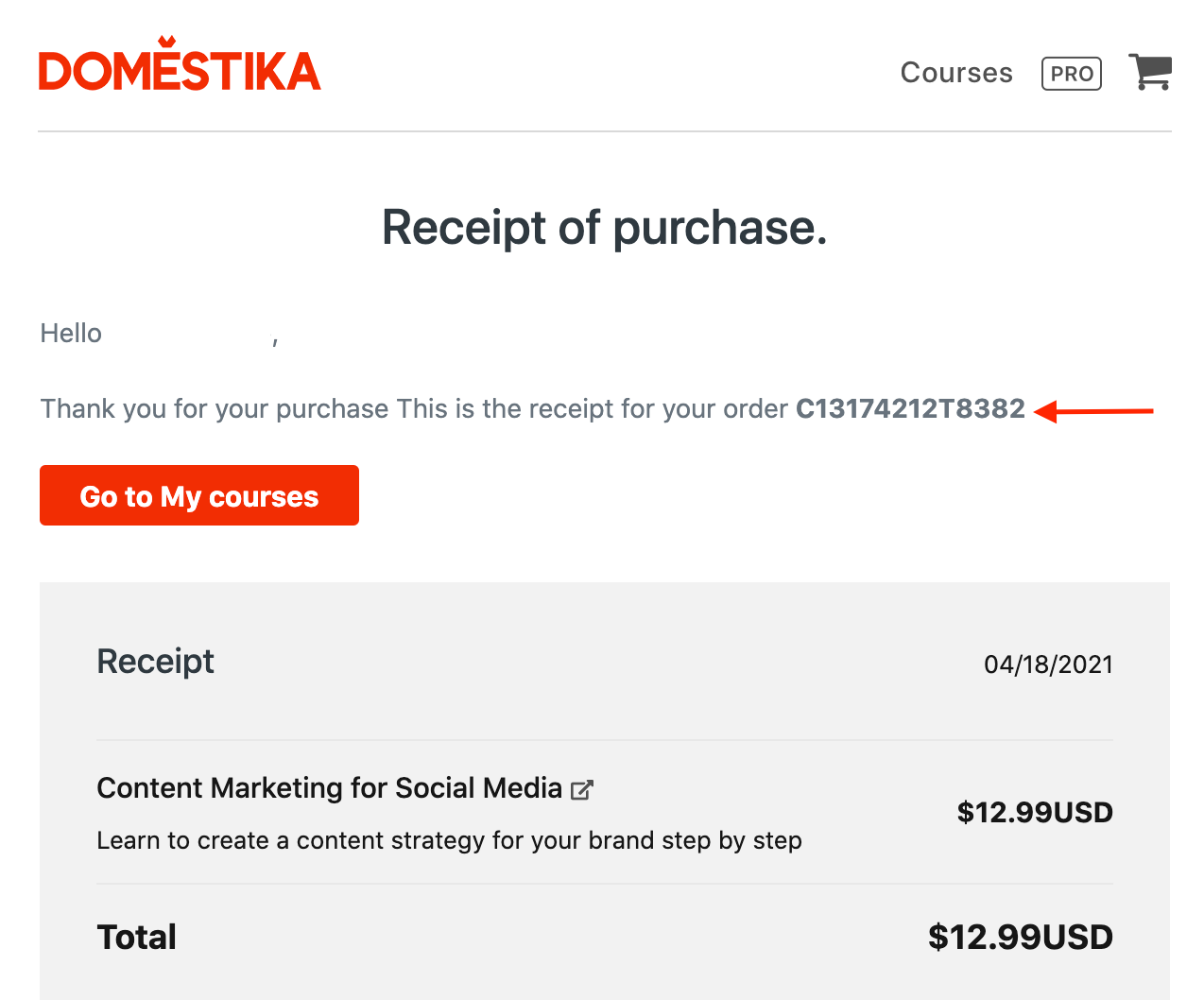 In the case that you cannot find this email, do not worry, we can locate your order with its payment details in order to see what is happening.
Depending on the chosen payment method, we will need you to send us the following information:
Visa/Mastercard/American Express Payment:

last 4 digits of the card and exact date of purchase.

PayPal Payment:

email address of the PayPal account used to complete the payment

and date of purchase.

Payment on the website through local methods (cash, bank transfer) processed by dLocal:

proof of payment or ticket from the store where the deposit was made.

Payment through the Domestika App: invoice generated and sent by App Store or Google Play and exact name of the course you purchased. To learn how to download your invoice, please review this article.
We want to reassure you that the courses don't disappear or get deleted. With the payment information, we will be able to find the purchase and, very soon, you will be enjoying your course!